Char-Broil Classic 480 40000 BTU 4-Burner gas grill with side burner is an affordable grill for great performance.  Those who wish to enjoy grill flavored food during outing or camping programs or simply prepare some special meals, this grill is an ideal choice.  Fitted with four burners, it is able to produce 40,000 British Thermal Unit (BTU) of maximum heat output to support its performance.  Its side burner can produce 10,000 BTU as an additional option to grill the food evenly, fixed under a flush mounted enclave.  Built in stainless steel body the Char Broil gas grill has an elegant look. Operated with superior quality electronic ignition system, you can have comfortable grilling experience with this unit.
Technical Specifications
Rating: 4.3 stars
Price: 5 stars
Dimensions (Lx Hx W): 56x 45.5x 21 inches
Weight: 114 lbs
Burners: 4
Cooking area: 660 square inches
Heat: 40,000 BTU gas grill with 10,000 BTU lidded side burner
Material: Stainless Steel
Fuel Type: Propane
Warranty: 1- year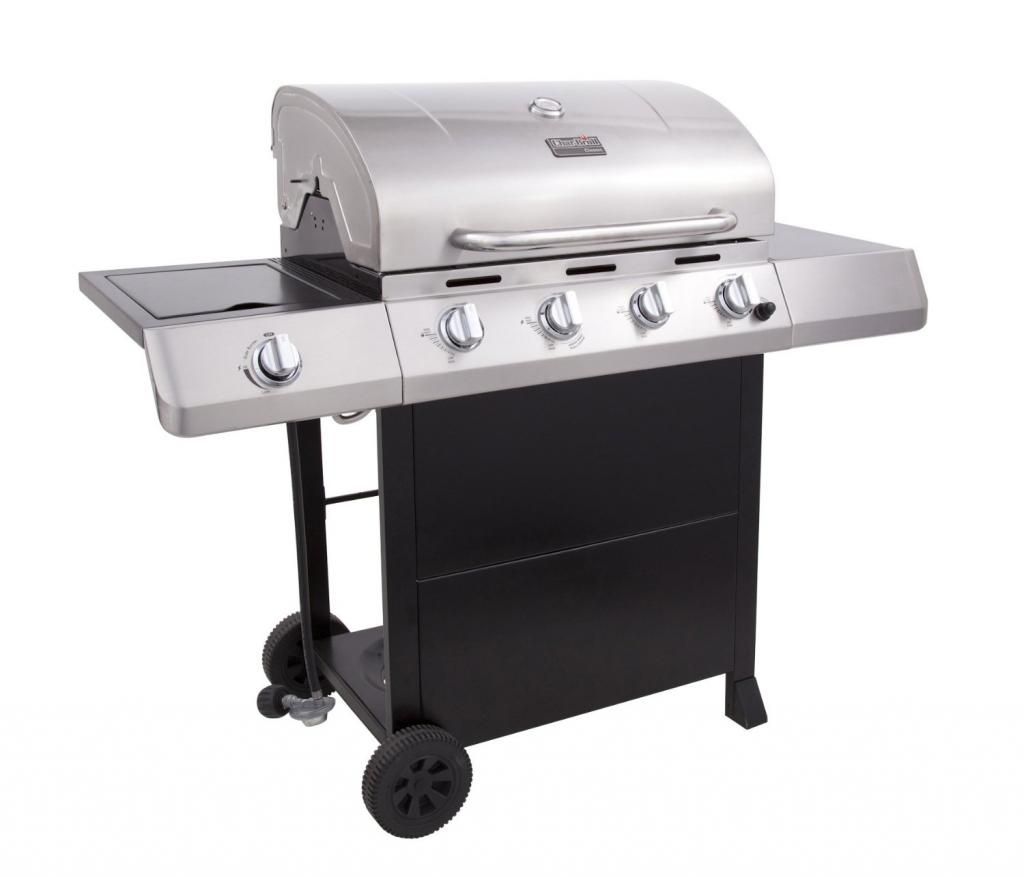 Take your Char-Broil Classic 480 Gas Grill and Enjoy its wonderful features
Easy to assemble
The grill is easy to assemble. Clear instruction chart is supplied along with the parcel pack with all the required screws and tools. Maximum time required to assemble the unit is one and half to two hours.

Structure
The Char-Broil Classic 480 40000 BTU 4-Burner is designed to meet the challenges of outdoor grilling.  All varieties of grilling can be done with more ease and you can grill your favorite food even in a windy outdoor climate.  It has a primary grilling area of 480 square inches made of porcelain coated cast iron grates.  In addition it has 180 square inches of secondary cooking grill area made of porcelain coated swing away.  The total grilling area is 660 square inches.  The large area of the grill allows you to cook more food in the shortest possible time.
The Char-Broil Classic 480 provides four stainless steel gas burners, with up to 40,000 BTU maximum outputs from the main burners, and 10,000 BTU output from the side burner that is kept under a flush lid. For mid $200 price range you are not finding a better grill with impress features like this.
Convenience of the workspace is enhanced with large metal side shelves. The stainless steel features add up to the durability of the grill and hence it is also easy to clean the unit. The look of the grill is elegant due to stainless steel fabrication and will stand like a style quotient in the back yard. This is a challenging product of Weber 46110001 Spirit E210 Gas Grill.
With dimensions of 56" length, 21" width and 45.5" height, this is a compact grill compared to any other grill available in the market.   The total weight of the unit is only 114lbs when assembled with all accessories it is within manageable level to be handled by single person. Two Large 7" wheels help the grill to be taken to any corner where it is required to be moved.
The Char-Broil Classic 480 is sold to the customers with limited one year warranty. The core component of the unit is its burners. The burners are manufactured with stainless steel.
Instant orders save you 32% and get free shipping as well –  Limited Time Offer
Parts
The body of the product is manufactured with the best stainless steel material. Stylish design and supreme functionality is blended together in the grill to give a perfect solution for your grilling requirement. The change in appearance from the all black unit in to a brilliant shining stainless steel is a revolutionary concept.
To make it stronger and attractive the lid of the cover, handle, burners and control panels are made of stainless steel. They are quite durable and can resist rust for a long time and it is designed to give long service. Gas grill reviews strongly support the grill due to its positive features!
The electronic ignition press button is placed conveniently on the right side of center panel of the grill which is easily accessible. The revolving knob regulators are so smooth and can be maneuvered easily to control the flames of the burners. It also have two wheels in 7'' size for easy shifting.
Convenient to use
The push button electronic built-in ignition switch is battery operated and it is reliable to provide spark with each push. Push button mechanism is very gentle and soft to handle. Within 10 minutes of ignition the unit can reach up to 550 degree heat.  Temperature of the grill can be regulated by simple maneuvering.
The porcelain coated cast iron cooking grates are easy to clean. The coating resists stains from getting accumulated over the grates. Seasoning is not required to clean the porcelain coated cast iron grill.
See more impress features of Char-Broil Classic 480 Gas Grill here

Pros
Manufactured with strong stainless steel material for long life.
Can be used effectively during windy conditions.
Flush covered side burner provides enough working space when not in use.
Temperature indicator will let you know the position of the burning temperature.
Porcelain coated grills grates, will resist accumulating stain and ease up cleaning.
Electronic ignition systems for quick firing.
Two wheels for easy shifting of the unit from one location to other.
Large inexpensive grills for more food cooking at a single time.
One year limited warranty, meant to add product confidence.
Even heating helps to have tasty grilling.
Cons
Side burner is low powered which may consume more time for grilling.
Assembling is time consuming.
Economically priced
Char-Broil Classic 480 40000 BTU 4-Burner Gas grill with side burner is presently priced at about under $200 along with free shipping offers!  With the present offer price you will have a straight saving of 32% that will be approximately about $93.29.
The grill is also offered to selected countries outside USA. Consumers have unanimously expressed their satisfaction after using this product. It is considered as a stylish and reasonably priced Char-Broil grill presently available in the market. Considering the price tag, the grill is quite affordable and the performance is absolutely satisfactory.
Conclusion
No messy cleaning efforts are required and that makes it one of the acceptable back yard BBQ grill machine. Thanks to the porcelain coated cast iron grates, the product is designed to serve you without any hitches at least for 8-10 years.  Char-Broil Classic 480 40000 BTU 4-Burner Gas grill with Side Burner is the perfect gas grill for people who are looking for a quality product!